Description
This narrative represents a many-­faceted summary of success. It explains how an unconventional, strong willed and remarkably creative young man became a mechanic. How as an incorrigibly obstinate automobile fan he advanced to the status of an eminently successful racing driver on the international competition scene. And it also describes how this single-minded, highly determined dreamer metamorphosed into a builder of his own racing cars. Furthermore, in accordance with the same verve and determination that enabled him to attain the initial step in Formula-1 as constructor/driver, following a mechanically induced, unfortunate major accident, he continued to pursue his long-time ambition as automobile producer …, and to become an internationally renowned manufacturer and purveyor of exclusive, high-performance luxury automobiles.
It remains to note how it was possible for Peter Monte­verdi, the garage owner and sportscar specialist located in a suburb of the Swiss city of Basel, in but a few years' time to have been able to break into the ranks of well established, world renowned sports- and GT-car manufacturers. What talents and energy, what harbingers of fate had been necessary to have brought this singular Monteverdi career to fruition?
These questions had fascinated the two journalists Roger Gloor and Carl L. Wagner, and together with Peter Monteverdi they arranged to write a story covering his career, which culminated with the publication of the first Monteverdi book in 1980. The American automobile journalist and writer Carl L. Wagner interviewed Peter Monteverdi countless times. The results were formulated in a biography that ranged from a highly unconventional young man who stood on the threshold of a burgeoning race-driver career – that was enhanced by the construction of his own series of MBM racing cars – to the culmination of his plans for the production of a luxurious GT coupe. Roger Gloor, the native Basel automotive journalist and writer, continued the story of Monteverdi's life's work that was characterized by the further development of his own Monteverdi-designated brand up to the date of publication at the above-­mentioned time.
Even though he was only 46 years old in 1980, Monteverdi and his marque had already become vital statistics in automotive history. But the Monteverdi story continued onwards from the year 1980. It was furthermore closely entwined with automobile racing, as well as with the production of high-performance-, off-road- and luxury cars. In 1998, much too early, terminal cancer ended Peter Monteverdi's adventurous and exciting life.
Paul Berger, Peter Monteverdi's companion and heir, as well as the custodian of the Monteverdi heritage, has made it possible for the authors to continue on with the further exciting and diversified developments undertaken by this great Swiss automobile designer and constructor after 1980.
Both authors consider the encounter with Peter Monteverdi as highlight in their professional careers.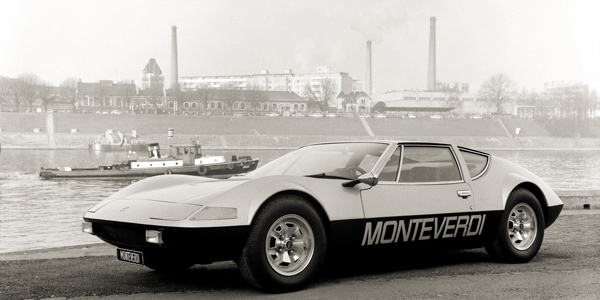 This high-quality leather fibre fabric bound book has 304 pages.
535 photos illustrate technical details of numerous cars and show the life of Peter Monteverdi.
The photos have been taken from the Monteverdi archive and from numerous other sources. They have been completely reprocessed for high quality printing
Watch the documentary HERE